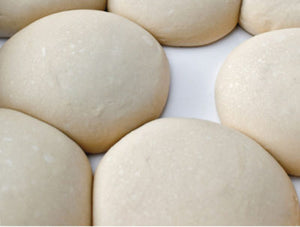 MUST MAKE THE FULL BAG, CAN NOT PORTION OUT.
*Intended for Commercial Use with 30qt. Mixer or larger* 
Just add water. Instructions included. Makes 20 pounds of Authentic Detroit Style Pizza Dough.  
--
Commercial availability for Detroit Style Pizza Co. Dough Mix makes it possible for entrepreneurs and business owners to launch their own pizzerias or add to their current menu offerings without the need to buy into franchises or spend months of trial-and-error developing their own recipes from scratch. Instead, they can focus on business growth and save time and money by using a proven, award-winning dough recipe backed by solid support.
Detroit Style Pizza Co. Dough Mix:

Is directly based on the recipe Randazzo crafted to win World Champion Pizza Maker of the Year at the 2012 International Pizza Expo in Las Vegas
Is made specifically for baking Authentic Detroit Style Pizza in demanding commercial kitchen environments
Includes instructions to make the dough at a 70 percent hydration level, which results in a crust that's crispy on the outside, light and airy on the inside
Is available in 12-lb. and 30-lb. bulk packages, which yield 20 lbs. and 50 lbs. of dough, respectively
"We're thrilled to be able to offer our Authentic Detroit Style Pizza Dough Mix to customers across the globe. As more people get a taste of Detroit Style Pizza, worldwide demand has rapidly increased for restaurants to serve our style of pizza," said Randazzo. "Getting the dough right is the hardest part, so we've taken our award-winning recipe and made it easy for pizzerias and restaurants to bake their own great-tasting Detroit Style Pizza without having to invest a lot of time and money into creating their own recipes or franchising. This isn't something that's been adapted by a third-party. It's the same exact dough mix we use in our own pizzeria, so we know it's successful and meets our rigid quality standards. Quite literally, we are our own customers."