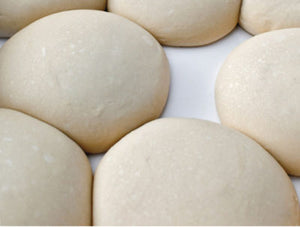 Just add water. Mixing and managing instructions included. Makes 44 pounds of Gluten Free Pizza Dough.
--
Detroit Style Pizza Co. has made its already-popular gluten-free pizza dough recipe mix available to other entrepreneurs and pizzerias.
Randazzo crafted his gluten-free pizza recipe when his wife, Keri, was diagnosed with celiac disease in 2012. The couple sampled gluten-free pizzas from numerous restaurants, but were dissatisfied with the thin, papery crusts that tasted like styrofoam. Thus, Randazzo set out on a quest to create a gluten-free pizza recipe that rivaled the flavor of his Detroit Style Pizza, which was named World's Best Pizza at the 2012 International Pizza Expo in Las Vegas. Now the mix is available for others to share an amazing gluten free experience.
Traditional bread products such as pizza dough contain gluten, and many have struggled – and failed – to develop a gluten-free pizza dough recipe that tastes as good as the "real deal." Randazzo's recipe employs grains such as white rice, and tapioca in a custom blend for gluten-free pizza that rivals the taste and texture of his award-winning Detroit Style Pizza.
"Great-tasting gluten-free pizza is about quality of life. Those who suffer from celiac disease and gluten sensitivities should not have to choose between eating bland food and experiencing pain," said Randazzo. "I'm proud that we've had an overwhelmingly positive response to our gluten-free pizza dough recipe.